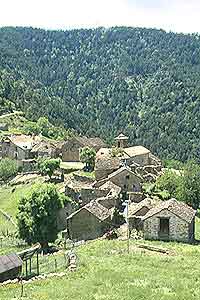 Muriello de Sampietro

is a village in the hills south of Puyarruego. No people are living there permanently. For this excursion we'll follow the old path between Puyarruego and Muriello. There is only one caveat: don't miss the spot where the path leaves the river bed. Once you've found this point, the rest of the hike is straightforward because the path is easy to trace. You'll need about four hours for the walk one way taking into account some time for bird-watching, looking for plants, taking pictures and a short rest. There is a promontorio near Muriello that is a good spot for a pic-nic with splendid view on the montain range.

From the Plaza of Puyarruego walk down and, before you reach the bend, turn left. You'll pass some farm buildings (It's amazing the amount of plastics going around in this kind of business.) and then walk between the meadows before you'll reach the Río Yesa. Turn right (don't go down into the riverbed) and keep to the path that continues on the left bank (you are walking against the current). You'll pass small fields, exuberant hedges, old barns and stony flats with fossils. It's sometimes necessary to round a barn to find the next part of the path, but the way to go is generally quite obvious.